JEVE – Youth Program for Green Entrepreneurship and Employability aims to support young people to find a new professional opportunity, by developing entrepreneurial skills and attitudes in the Green Economy.
The Project was developed by the Portuguese NGOs the Portugal Entrepreneurship Education Platform (PEEP) and K-Evolution and is being implemented in partnership with Nordland Research Institute of Norway, Bifrost University of Iceland, Universidade Aberta and ACM (High Commission on Migrants) of the Portuguese Government.
The Context
Unemployment is both a national and European-wide problem that has strongly affected young people in recent years. In Portugal the youth unemployment rate is one of the highest of the European Union and is more than 10% higher than t that for the Euro 28.[1]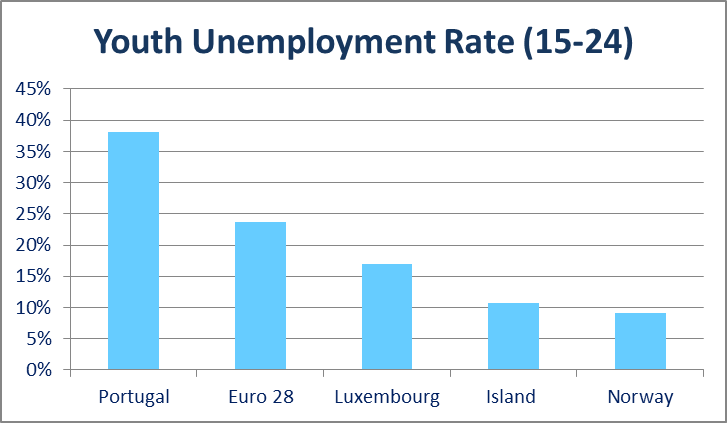 Particularly serious is the growing numbers in the NEETs group (Young people between 16 and 25 years that are Not in Employment, Education or Training)[2], with a rate of 14.1% (158 thousand young people). NEETs definition, according to the ILO (International Labour Organization), includes not only unemployed youth but also those that are inactive.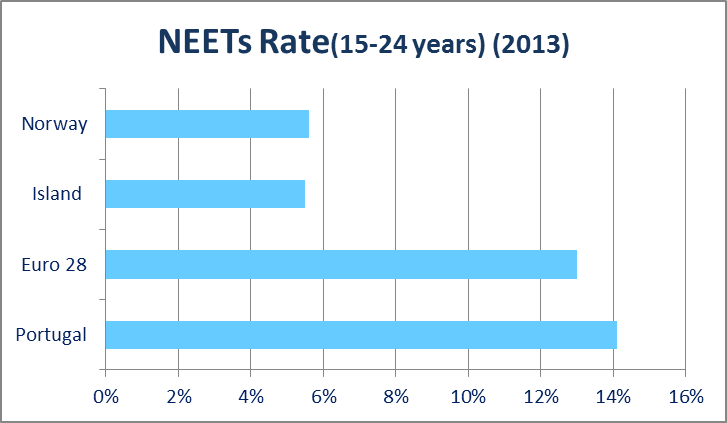 Most of the Portuguese NEETs are unemployed (9.2%). The rate of inactive NEETs in Portugal however (4.8%) is lower than that of Europe (6.1%)[3].
The majority of NEETs (75.1%) are between 20 and 24 years old and include both those who have a higher education as well as those that do not.That means that, contrary to the general vision of the problem, most Portuguese NEETs are motivated to find new opportunities in the labor market but are facing more difficulties[4].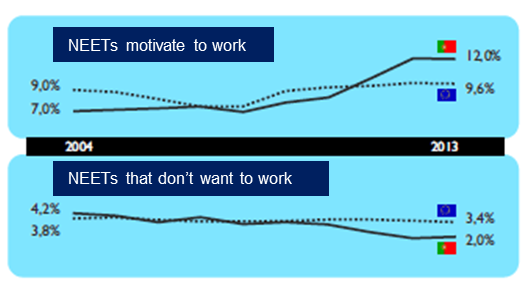 Most NEETs only complete elementary school, although there is an increasing number of NEETs recieving degrees in the last several years[5].
This unemployment situtation has mainly been caused by the deep economic crisis that Portugal has experienced over the last 5 years. It highlights the need for a better linkage between education and the labor market. There is also a need to increase internships, make use of temporary labor and to promote an entrepreneurial spirit and skillsets.
The long term consequences of youth unemployment are numerous: loss of self-esteem that can lead to further inactivity and exclusion; increased detachment from the realities of work; the cause of further social inequalities; and, further promote emigration to other countries, particularly those individuls with higher qualifications.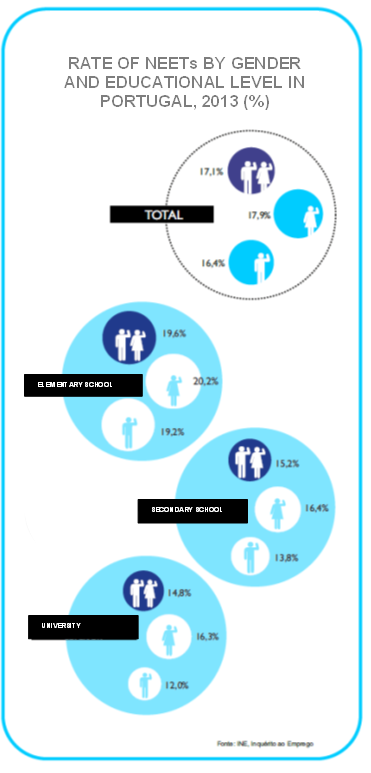 The Demand for New Skills – Green Job Revolution
Creating jobs in the green economy are crutial for sustainable development, decreasing poverty, and promoting strategic areas such as agriculture and alternative energy sources. The Green Economy has potential for growing in Europe and Portugal in job creation (Green Job Revolution), development of new business areas, new techknowloge and designs.
Various studies cite that society is moving toward a green economy and that it will create approximately 60 million jobs worldwide. It will present a great oppportunity for young people. The UN states, that green jobs are the solution to decreasing the youth unemployment rate in developed countries[6]. The Green Economy is an integral part of the European Commission's Employment Package[7] and the Portuguese Government has commited to the promotion of a Green Economy through the enactment of Compromisso Verde[8].
Conceptual Model – An innovative approach
• Transferring good practices from Norway and Iceland in regards to best practices in green entrepreneurship;
• Data-mining social media to identify and connect with young people through local community-based organizations;
• Identifying the necessary skills that young people need in Portugal for green jobs;
• Training technicians in community-based organizations in order to contribute to the development of appropriate skills required for green jobs and to the sustainability of projects; training young people through an adaptive e-learning platform with pathways connecting with the private sector to promote internships and the improvement of skills as well as encouraging the creation of new initiatives;
• Mentoring and coaching on career and project development;
• Contributing to Public Policies via a Policy Brief on Entrepreneurship and Sustainability Education.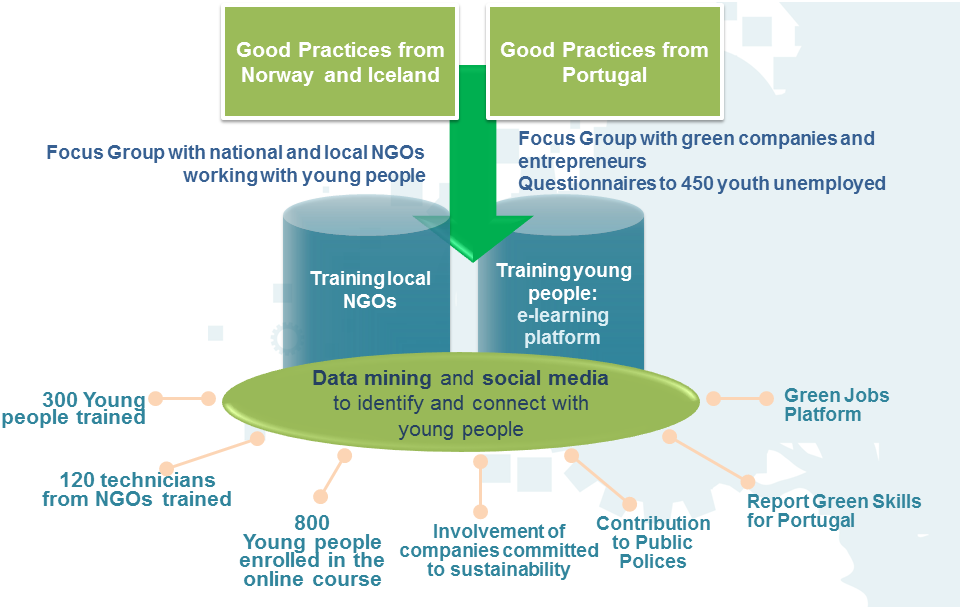 And the outcomes are geared toward guaranteeing the sustainability of the "All Process":
• Local networks to promote green jobs;
• A platform for green jobs and employability;
• Further commitment from the private sector in creating green jobs;
• Public policies to promote education in entrepreneurship and sustainability.
The Partners Involved
JEVE counts on multiple and complementary knowledge in the field of entrepreneurship and sustainable education in working with youth and the e-learning process. To know the partners better please click on the logos below (information in English).
The Portuguese partners of JEVE believe that multilateral cooperation has been of great importance in the development of JEVE.
JEVE is a lifelong learning project in the field of non-formal education and experimentation at different levels such as: engagement of young people in a new field of knowledge; use of technology to improve soft skills such as entrepreneurial skills; data-mining for deeper diagnosis of the causes of youth unemployed (particularly motivations and attitudes); development of a Policy Brief/Report on Green Skills to Portugal.
Norwegian & Icelandic partners
Norway's Norland Research Institute focuses a significant part of its research on the topics of education, entrepreneurship, innovation and the Green Economy (natural resource management, the environment and climate change). Bifrost University of Iceland uses innovative learning methods and focuses on the personal development of its students, not just their technical skills that represent an important partnership in the field of engaging youth. Iceland has been internationally recognized for having recovered from its economic crisis in part by developing the Green Economy.
Norway and Iceland represent important case studies in the field of the Green Economy, not only for its importance in terms of GDP but also for the large variety of green businesses they have created. This could present an inspiration for Portugal.
The knowledge shared by Nordland Research Institute and Bifrost University has been of significant importance in the initial development of the project and can serve as a future connection between Portugal and its EEA partners in the field of green entrepreneurship.
The project has been funded by a grant from Programa Cidadania Activa (EEA Grants, NGO Programme managed by Fundação Calouste Gulbenkian as program operator) and runs between October 2014 and March 2016.
Visit: www.jeve.pt.
For additional information on the project contact:

Scientific coordinator
Dana Redford dana.redford@peep.pt
Project Managers
Luis Vaz luis.vaz@peep.pt
Catarina Maciel catarina.maciel@peep.pt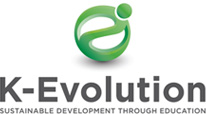 Sofia Santos sofia.santos@kevolution.org
References
[1] http://appsso.eurostat.ec.europa.eu/nui/submitViewTableAction.do
[2] http://www.eurofound.europa.eu/pubdocs/2012/54/en/1/EF1254EN.pdf/ (Eurostat)
[3] www.ics.ul.pt/flipping/opj (Eurostat)
[4] www.ics.ul.pt/flipping/opj (Eurostat)
[5] www.ics.ul.pt/flipping/opj
[6] United Nations Conference on Sustainable Development (Rio+20) – http://www.un.org/apps/news/story.asp?NewsID=41924#.VI4OmCusWoM
[7] http://ec.europa.eu/social/main.jsp?catId=1039&langId=en
[8] http://www.portugal.gov.pt/media/1535347/20140915%20apres%20compromisso%20crescimento%20verde.pdf