According to a report published by the Czech Helsinki Committee in 2013, there has been a deterioration in the social climate in Czech society, with intolerance, hatred, xenophobia and racism rising. Media coverage is often such that it perpetuates xenophobic and racist public discussion, including that which occurs in cyberspace.
A change in attitudes towards minorities from students as well as teachers is key to decreasing the tensions; however, it is really difficult to achieve. Amnesty International CR has been working on hatred elimination for many years and it is still seeking suitable, effective and, importantly, sustainable work methods. To achieve the goal, the project The Amnesty International Living Library – With Openness Through Reading utilizes a unique form of workshops for teachers and students based on interviews with the so-called human books: people belonging to minorities (ethic, religious or sexual) who have been thoroughly instructed for the purposes of the project. This new and unique way of working with the public has made it easier to change attitudes towards minorities.
"We want the young to perceive live social issues through human rights, allowing them to reflect upon their own stereotypes and prejudices; we will teach them how to handle such notions. Living Libraries have proven themselves a great instrument in the past," explains Jiří Bejček, the manager of the project Amnesty International Human Libraries – With Openness Through Reading.
Partner Amnesty International Norway offers the Czech Amnesty opportunity to gained new knowledge on methodologies and share the experience with evaluation, workshop methods and project management.
The activities are unique in that they are not mainly about lecturing and answering a predefined set of questions. Quite the contrary is true: it is an open dialogue with a human book together with other supplementary events. The program allows students to think about questions of discrimination, social exclusion, extremism and racism in context, based on real personal experience. The method enables the participants to deal with the natural fear of the unknown; it also allows them to voice their anxieties and prejudices in a direct dialogue with representatives of minorities.
"It developed me for sure as I became aware of how hard it is for some people thanks to their stories", says Agáta Matějková, speaking of her experience with the Human Library as a secondary school student. Though she may not be able to borrow Hemingway or Čapek in this library, she can talk to chosen books – literally. An educational project that is taking place at primary and secondary schools lends human books to students – members of different minorities. Their own personal stories reveal them, for example, a Syrian muslim, a homeless person, a blind ceramic artist, a Ukranian activist, a wheelchair user or a Roma citizen working for the police.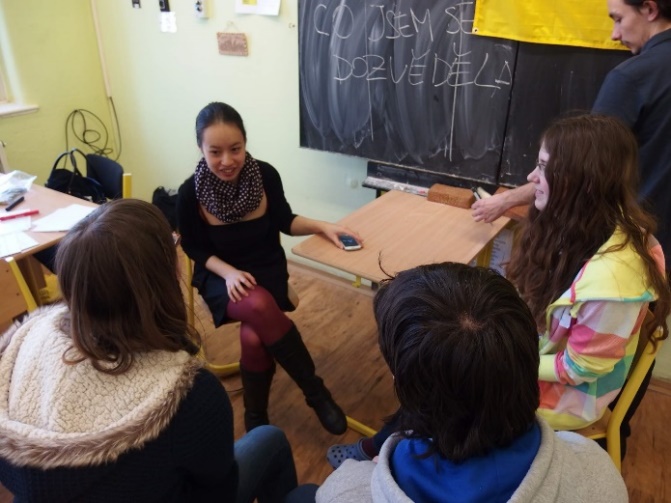 Students of 4. A Gymnasium František Palacký in Neratovice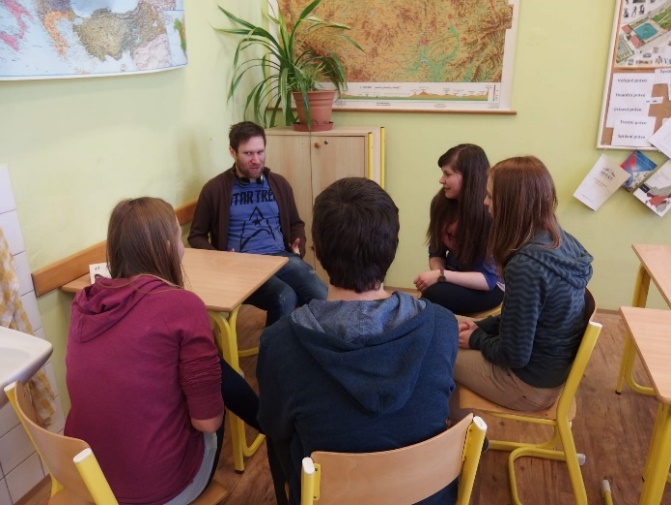 Human Library with Vietnamese student Ly and homosexual Vítek (FOTO:Amnesty International)
In places where the project has already taken place, it has been received very positively. The Human Library method creates an environment in which to confront internalized attitudes and stereotypical perceptions of minorities in the Czech Republic by students and teachers. It also supports students from the target groups in school communities (the stakeholders).
"The entire programme about national minorities and human rights organised by Amnesty International has been very informative and has been a very welcomed form of making lessons more varied. We are happy that the school offered us this opportunity and that they gave us the possibility to meet a lot of interesting people. Each of them was completely different and interesting in his or her own way. Thanks to the project we understood that we shouldn't judge people by appearance, race, nationality, religion or sexual orientation, because we are all people and we are all equal.
In conclusion we would like to give thanks, on behalf of the whole class kvarta A that had an opportunity to take part in this project, for the originality of the programme and the large amount of new information that we gained during the project."
Read more about the NGO Program in the Czech Republic here.