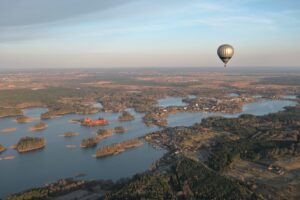 One of the main objectives of the Active Citizens Fund is to strengthen bilateral ties between civil society in the beneficiary countries and the donor states (Norway, Iceland and Liechtenstein). What better way to do so than through the exchange of personnel?
ACF Lithuania's new call, "Practical learning mobility", aims to do just that.
The setup is simple. Check out this one-pager created by the fund operator. Check out ACF Lithuania's website for the full guidelines and application templates.
In sum, the call allows NGOs in Lithuania and Norway to partner up and send 1-3 staff members to each other for a period of 5 to 20 working days.
During this time, the volunteer will be expected to work on a predetermined project agreed upon by the partnership.
The funding setup is straightforward:
100% of eligible expenses are covered
Direct costs incurred by the hosting organisation linked to the volunteer are covered
Travel, insurance, accommodation, per diem and the salary of the employee (if they are an employee) for the given period are also covered
Indirect costs are as well covered.
The call closes on 15 December, so that doesn't leave much time for dilly-dallying.
For any questions on the call, get in touch with the ACF Lithuania fund operator at info@apf.lt
If you're looking for a partner in Norway or Lithuania, remember to check out our online database and register your own organisation.
The following organisations are currently looking for a partner in Norway:
Žinau ką renku  – this is a youth lead policy and election monitoring network. Mainly they organize public debates with politicians and young people before the elections and later they monitor whether election promises were achieved. They were interested in elections and civic activism. Main contact: Aušrinė Diržinskaitė ausrine@zinaukarenku.lt
Nelik vienas promote environmental sustainability through re-using of various household items. They have recently opened a shop where people can bring and take various things and have quite a few volunteers, whose competences they would like to develop. Main contact: Gabriele Narmontaite narmontaite.gabriele1993@gmail.com
RIGRA provides services and support to people using addictive substances and their relatives. Main contact: Kęstutis Rudaitis rudaitis.kestutis@gmail.com