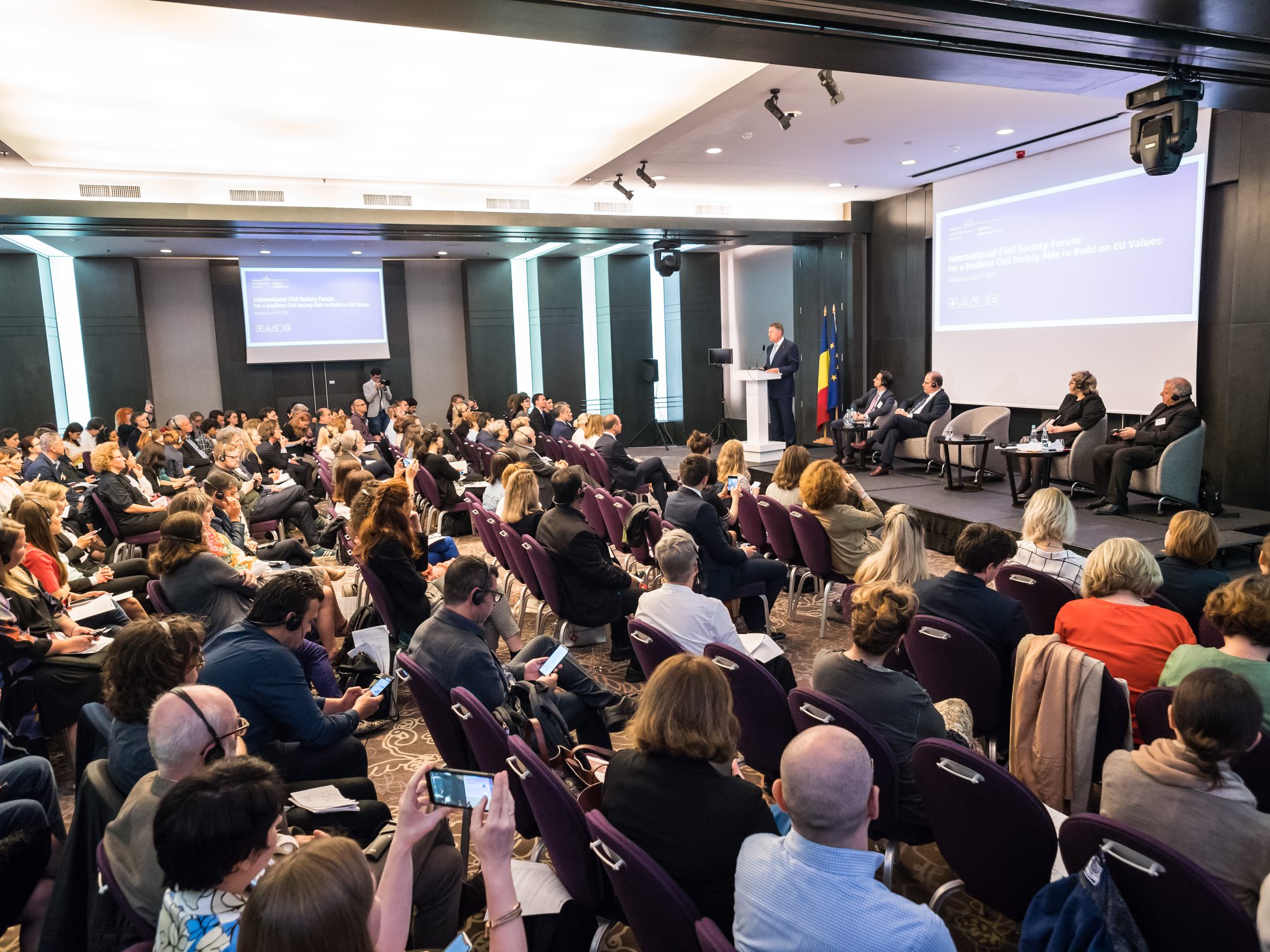 The Active Citizens Fund Romania was launched with a first regional event that brought together a record number of civil soceity organizations from across Europe.
The International Civil Society Forum took place in Bucharest, with more than 200 participants from 28 European countries, concerned that democracy, human rights or the rule of law are increasingly threatened throughout Europe. Moreover, civil society representatives are themselves targets of the same attackers, often populist and authoritarian politicians who make laws that no longer allow civil society to do its job. Leaders from the European institutions and major European networks of non-governmental organisations attending the event confirmed these dangers.
When addressing the participants at the opening of the event, Mr. Klaus Iohannis, the President of Romania, declared: "In Romania, as in other European Union states, citizens rejected the anti-European speech. Through these elections, most citizens of the Member States have proven that they understand the dangers posed by europhobic, extremist, nationalist and populist movements. This is a good moment to continue to find solutions for defending democracy, rule of law, European values, and I believe this is possible through education. We have the duty to secure a tradition of civic involvement at all levels of society for future generations. In this sense, education is the safest and most handy tool that society has. European citizens must also pay more attention and be ready to sanction shortcomings, abuses and actions that are not in line with European values and rules".
The International Civil Society Forum seeks solutions to restore civil society to help people at its full potential, and the European Union is one of the most important solutions. The values of the European Union must be strengthened, as they actually enable the daily achievements of civil society: human dignity, freedom, democracy, equality, rule of law and human rights. At the end of the Romanian Presidency of the Council of the European Union, civil society from all over the continent gathered in Bucharest sends a clear message to EU leaders: we need the new European Parliament and the new European Commission to actively support civil society in order for it to maintain its role of ensuring fundamental rights for all.
"Our vision is about a democratic society, based on social justice and inclusion. Until recently, I was confident that we would be able to support our communities, our vulnerable and discriminated people, we managed to criticize our leaders without the fear of repercussions whenever needed. But this freedom has now disappeared among civil society, among ordinary people who want to protest when they feel unjust" said Ionuț Sibian, executive director of the Civil Society Development Foundation.
"The record participation in the European Parliament elections shows us how people increased their expectations from the Union. That is why EU institutions must ensure that these values are respected in all member states. If we have states where equality of rights or rule of law are poor, it is guaranteed that civil society is being attacked, together with the people it supports", Ionuț Sibian added.
The International Civil Society Forum was organized by the Civil Society Development Foundation (Romania) together with the European Civic Forum and Liberties.EU – Civil Liberties Union for Europe, in the framework of the Active Citizens Fund Romania. The event was supported by CNVOS – Center for Information, Cooperation and NGO Development (Slovenia), Europuls – the Centre of European Expertise (Romania) and promoted by the Civil Society Days of the European Economic and Social Committee.