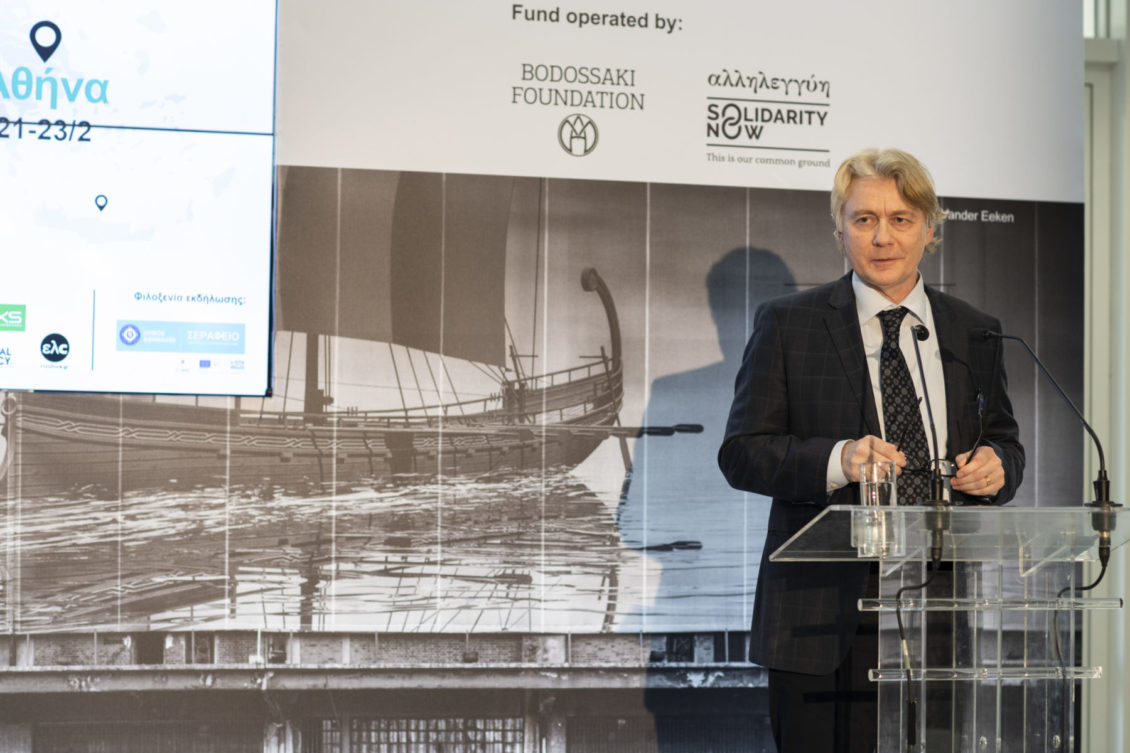 The opening event of the Active Citizens Fund in Greece was held on the 21st of February in Athens. More than 350 representatives of civil society organisations (CSOs), officials as well as NGOs from Norway gathered at Serafeio Sports and Innovation Centre in Athens, to salute the launch of the programme in Greece.
The donor states were represented by H.E. the Ambassador of Norway Mr Jørn Gjelstad, who said in his opening remarks: "For Norway, the task of supporting civil society whether it is at home or abroad is a key priority. The Norwegian government sees the Civil Society as a cornerstone of modern democracies, and a contributor to the realization of democratic values and principles. They are important watchdogs on what is going on within institutions and in the society at large. They have a capacity to make valuable input to governmental policy. These organizations have a unique competence in tackling problems arising from inequality and discrimination. More than others, they can contribute to inclusiveness and empowerment within a society. And they safeguard less privileged people and minorities by ensuring that their voices are heard. Every Norwegian government, irrespective of party composition, takes on an active supportive role in this regard. We believe that without the active engagement from the civil society and its organizations, the necessary consensus and trust for rational and inclusive governance would not exist".
In his opening remarks Mr Dimitris Vlastos, President of the Board of Bodossaki Foundation, said: "I am not tired of repeating that strengthening civil society is a prerequisite for social justice and democracy. Taking the responsibility of managing the Active Citizens Fund is a great honour and challenge for the Bodossaki Foundation, as it builds on the work accomplished through the previous EEA Grants NGO programme. In managing the funding of this new programme, we have a strong partner, SolidarityNow, with significant field experience, knowledge in supporting vulnerable groups and technical expertise in the implementation of EEA programs. This, combined with our own management experience and the Foundation's mechanisms, creates a strong management consortium and sets the foundation for the success of the Active Citizens Fund in Greece".
The Active Citizens Fund in Greece is supported through a €12m grant from Iceland, Liechtenstein and Norway as part of the EEA Grants 2014 – 2021. The program aims to develop the sustainability and capacity of the civil society sector in Greece, and to strengthen its role in promoting and safeguarding democratic procedures, active citizenship and human rights. The Fund Operator for the Active Citizens Fund in Greece is Bodossaki Foundation in consortium with SolidarityNow.
Open calls for proposals
Currently, two calls for proposals are open through Active Citizens Fund in Greece:
Vulnerable groups empowered, with 2,904,000 € available funding and deadline for applications 21 June 2019. See more information about the call here 
Strengthened civil society advocacy and watchdog role, with 1,970,000 € available funding and deadline for applications 21 June 2019. See more information about the call here
Bilateral cooperation initiatives
The call for Bilateral Cooperation Initiatives is also open. The call is intended to support activities aiming at enhancing relations between Greek NGOs and entities in the Donor States (Iceland, Liechtenstein and Norway). The total amount for funding under this call is €92,000.
In the same context, a bilateral matchmaking event was held in Athens on the 22nd of February. The "Meet your partner" workshop brought together NGOs from Greece and NGOs from the Donor states, in order to interact with each other, identify areas of common interest, and discuss initial ideas with the aim to eventually shape them into concrete joint project proposals to be submitted under the ACF open calls.