With the Active Citizens Days 2021 having concluded successfully last month (for a rundown of the event see here), we are pleased to announce 2022's edition of the Active Citizens Days!
The topic will be Advocacy for social inclusion: strategies and tools. Given current events, the question of migration and integration will receive special attention.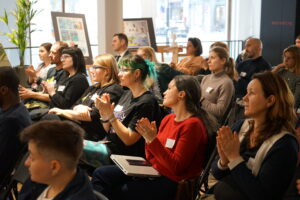 The event is organised by the Norwegian Helsinki Committee in concert with the two consortia of Polish civil society organisations, led by the Batory Foundation and the Foundation for the Education of Democracy, which operate the Active Citizens Fund in Poland.
In our current climate of strife and dislocation in Europe, whether it is caused by the pandemic, war, or mass population movements, it is crucial that civil society organisations are properly equipped to advocate and push decision-makers towards more social inclusion and increased respect for human rights.
Objectives
To create a platform for learning and sharing experiences on capacity building, advocacy, and social inclusion in Europe
To enhance cooperation and enable partnership between entities in Norway and Active Citizens Fund beneficiary countries in relation to capacity building for human rights issues.
To improve skills, knowledge and capacity on the topics of advocacy, social inclusion and human rights.
Programme
Call for selection of organisations from beneficiary states and Norway
Online sessions – three online events will take place consisting of one introductory meeting and two online thematic sessions.
A three-day onsite meeting in Oslo on October 10-12th, 2022
Apply now
For this program, we will select 10 organisations from Norway, small/grassroots/local NGOs working on human rights issues and social inclusion. They should be interested in strengthening their capacity, motivated to get involved throughout the program, and willing to participate actively at every stage.
For the online events several people from your organisation can participate, for the offline event in Oslo, it will be limited to one person.
Costs related to participation in the physical event (transport, accommodation, meals for the offline event in Oslo) are covered by the organizers. The working language for all meetings will be English.
To apply please fill out the online application form. Your answers to its questions will help us to elaborate the programme of the event.
The deadline for submitting applications is May 31st. Organisations will be selected on the basis of the answers provided.
Should you have any questions, please contact Jean-Christophe Delmas at acf@nhc.no