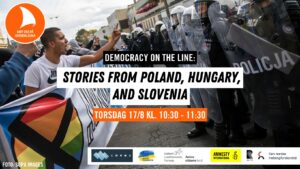 The upcoming Polish elections will shape Europe's future. As we look into the state of Polish democracy, we'll also draw upon the critical 2022 elections in Hungary and Slovenia as pivotal lessons in safeguarding democratic principles.
To share their stories we have:
• Ewa Kulik-Bielińska, veteran democracy defender, will update us on the state of Polish politics
• Nika Kovac, a key figure in Slovenia's recent democratic resurgence.
• Veronika Mora, who worked to unite Hungary's opposition against power consolidation.
• Jette Christensen, on the fragility of democracy and Norway's role
See you at Thon Hotel Arendal on 17/8 2023 10:30 – 11:30
Our event on Facebook can be accessed
here
.